KONO Meimon 4-Cup Coffee Dripper with Wood Handle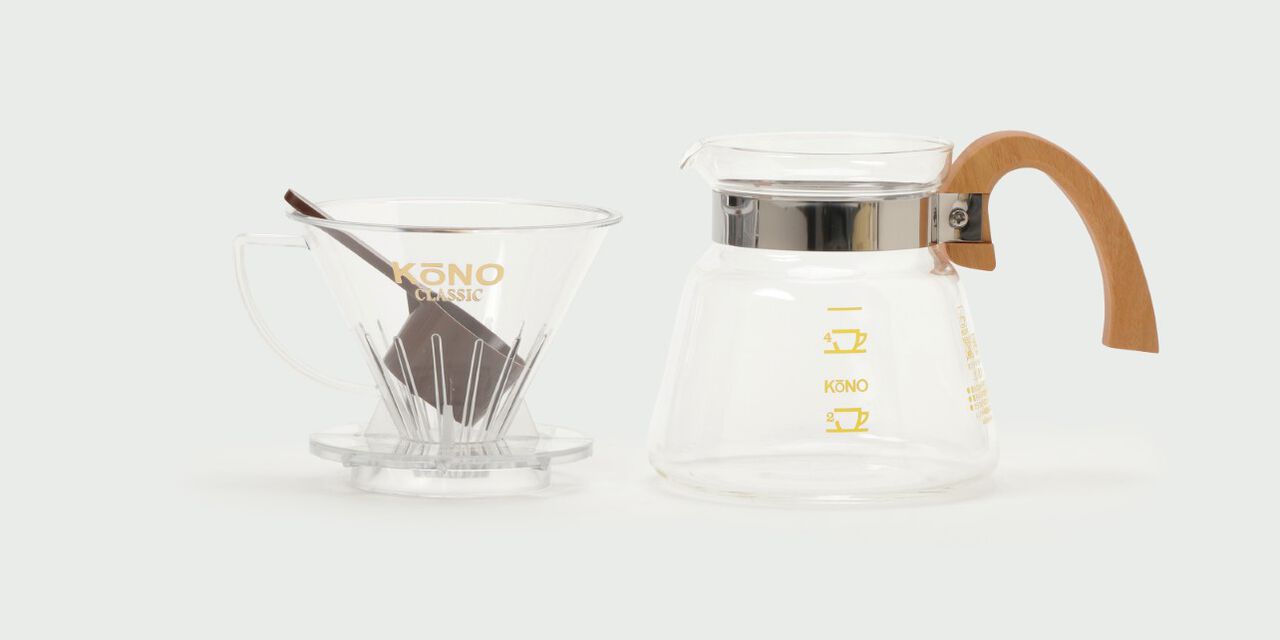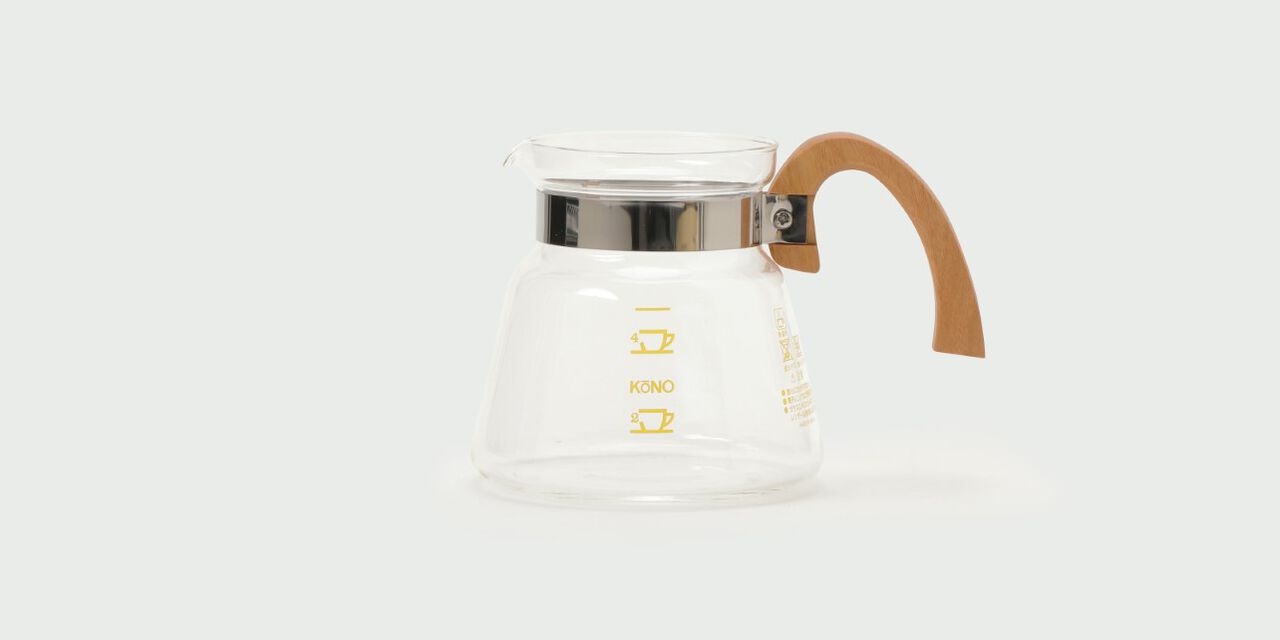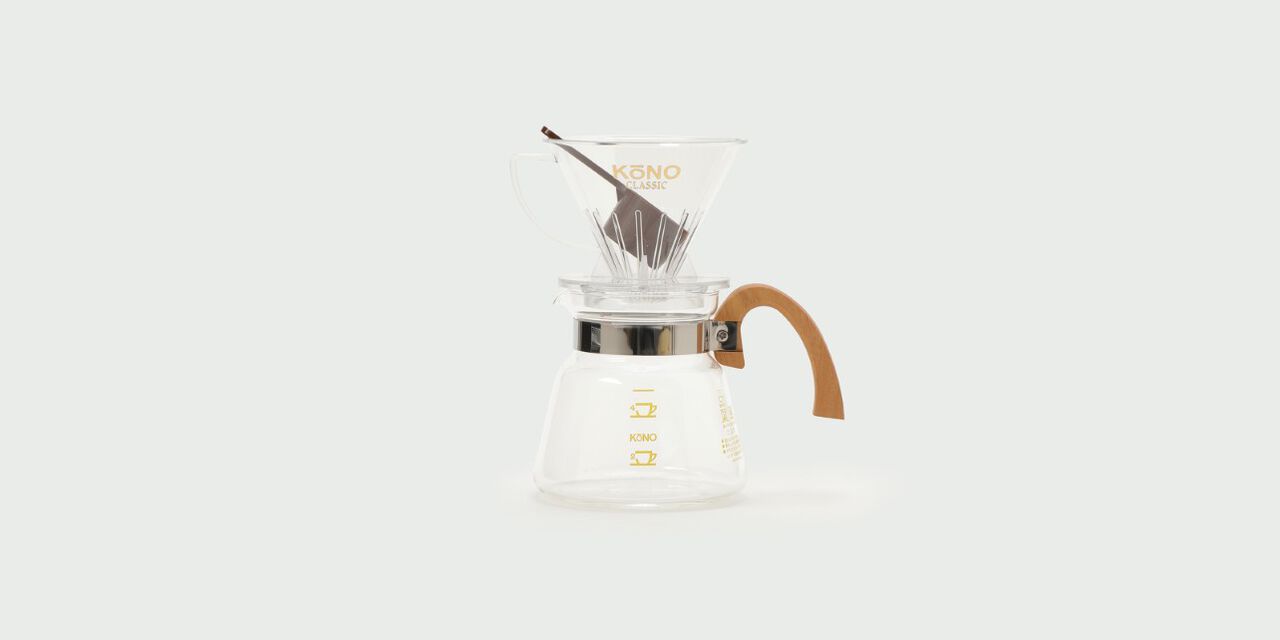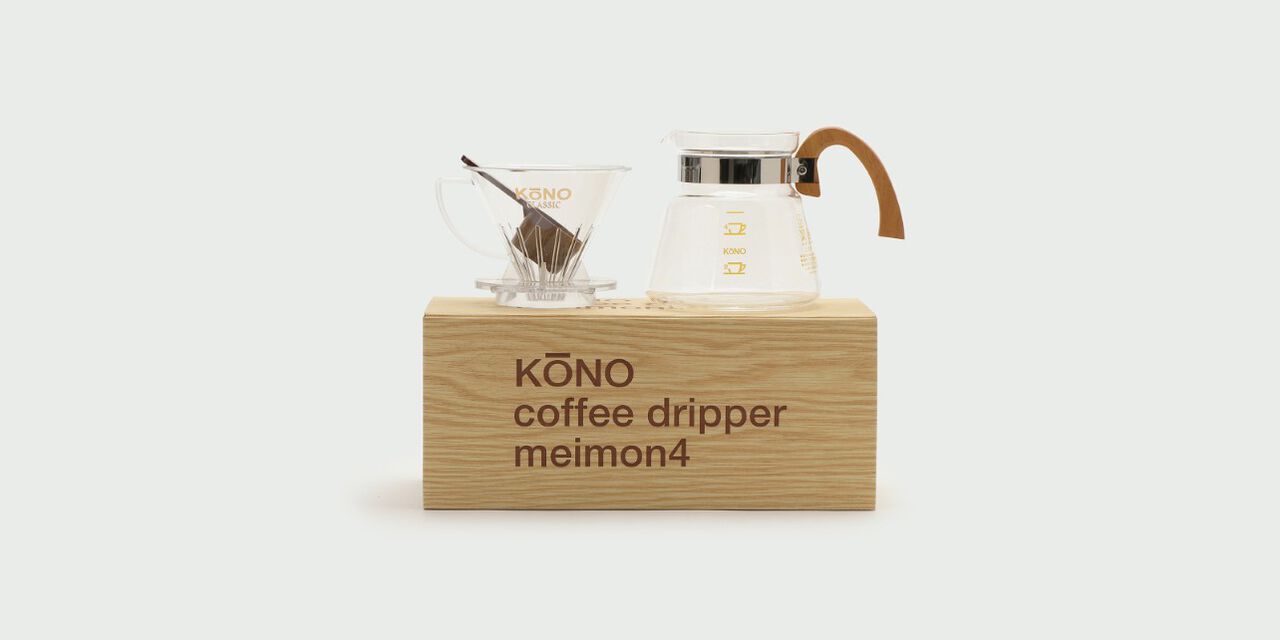 KONO-type Nel drip-brew has the advantage of extracting the natural aroma and flavor of coffee beans while also combining the ease of use by using a paper filter, comprised of a dripper and glass pot that serves 4 cups.

The dripper features a conical shape. Hot water spreads to the outer edges when poured, flowing out of the dripper at a constant rate. The inner side has ridges running midway up the dripper to offset the filter from the surface, whereas the filter will "stick" to the upper part of the dripper. This prevents any unwanted substances to mix into the coffee while exposing it to air for a slow extraction that will not compromise the coffee beans' flavor and aroma.

This dripper set uses an exclusive filter to optimize its functionality. The filter has a similar conical shape with a single hole for efficient concentration and extraction. The glass pot is large enough to serve up to 4 cups. Comes with a measuring spoon and exclusive filter.
Material: dripper/PCT resin, glass pot/glass, pot handle/sakura wood, measuring spoon/acrylic resin
Included in set: exclusive paper filter x 40pcs, measuring spoon
Remark 1: do not heat the glass pot in microwave or with fire. Does not include the lid.
Coffee Syphon Co., Ltd.
Founded in 1925. Its first president, Akira Kono, developed the coffee siphon after many years of research. Its second president developed the conical dripper in 1973. The third president developed a perfected version for household use that is dubbed, "Drip Meijin." Other than manufacturing coffee ware, it also processes coffee beans by roasting them.
[Set details]
・coffee dripper (4 servings)
・glass pot with wooden handle (sakura tree)
・exclusive paper filter x 40pcs
・measuring spoon

・Pot is not microwaveable and cannot be exposed to fire for heating.
・Lid is not included.
・Do not use a dishwasher or dryer.
・Glass may crack from sudden temperature changes. Do not wipe with a moist cloth or place on a moist surface when glass is hot.
・Do not use a brush that contains a polishing agent, metal brush, or cleanser when cleaning.
・Do not scrub the handle vigorously and continuously with a sponge. The painted surface (beeswax) may wear off and may cause cracking from drying.
・If you notice roughness on the handle surface, apply beeswax to coat the surface.
・The pot may shatter if dropped from high areas or by applying shock.
・Use only for its intended purpose.